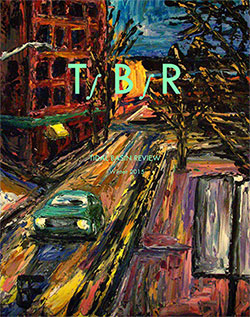 Purchase a print copy here
Featured Visual Artist

Allen Forrest. Born in Canada and bred in the U.S., Allen Forrest has worked in many mediums: computer graphics, theater, digital music, film, video, drawing and painting. Allen studied acting in the Columbia Pictures Talent Program in Los Angeles and digital media in art and design at Bellevue College (receiving degrees in Web Multimedia Authoring and Digital Video Production.) He currently works in the Vancouver, Canada, as a graphic artist and painter. He is the winner of the Leslie Jacoby Honor for Art at San Jose State University's Reed Magazine and his Bel Red painting series is part of the Bellevue College Foundation's permanent art collection. Forrest's expressive drawing and painting style is a mix of avant-garde expressionism and post-Impressionist elements reminiscent of van Gogh, creating emotion on canvas.
"Painting is a cross between a crapshoot, finding your way out of the woods, and performing a magic act. Each time I begin to paint I feel like I am walking a tightrope—sometimes scary, sometimes exciting, sometimes very quiet, and always, always surprising; leading me where I never expected to go. Doing art makes me lose all sense of time and place and go inside one long moment of creating.
Whenever I feel a painting in my gut, I know this is why I paint. The colors are the message; I feel them before my mind has a chance to get involved. Color is the most agile and dynamic medium to create joy. And if you can find joy in your art, then you've found something worth holding on to."
View more works by Allen Forrest: allen-forrest.fineartamerica.com
Featured Poet #1

Photo Credit: Andrew Council
Derrick Weston Brown is a native of Charlotte, North Carolina, and resides in Mount Rainier, Maryland. He has studied poetry under Dr. Tony Medina at Howard University and Cornelius Eady at American University, where he earned an MFA in creative writing. He is a graduate of the Cave Canem summer workshop for black poets and the VONA summer workshop. His work has appeared in such literary journals as Warpland, Mythium, Ginsoko, Drum Voices, The Columbia Poetry Review, and the online journals Beltway Poetry Quarterly, Howard University's Amistad, LocusPoint, and MiPOesias. His first book of poetry, Wisdom Teeth, was published by the Busboys and Poets imprint of PM Press.
Featured Poet #2

Photo Credit: Marlene Lillian
Alan King is a poet, journalist and author, who lives in the DC metropolitan area. He writes about art and domestic issues. Professionally, he's currently both a communications specialist for a national nonprofit and a senior editor at Words Beats & Life's global hip hop journal. King's poems have appeared in Alehouse, Audience, Boxcar Poetry Review, Indiana Review, MiPoesias and RATTLE, among many others. He is a Cave Canem Fellow, an alumnus of the VONA Workshops sponsored by Voices of Our Nations Arts Foundation, and a graduate of the Stonecoast MFA Low-Residency Program at the University of Southern Maine. He's a two-time Pushcart Prize nominee and was also nominated twice for a Best of the Net selection. His first collection of poems is Drift (Willow Books, 2012).