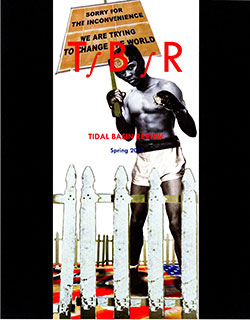 Purchase a print copy here
Najee Dorsey is a self-taught figurative artist with a broad following particularly in the North. A native of Blytheville, Arkansas with roots in Louisiana, Dorsey draws intimately on his recollections of life in the deltas for his brightly colored mixed media paintings and sculptures. His rich compositions are compelling vignettes of Southern life.
Dorsey started painting at the age of 5 and sold his paintings to his encouraging mother to buy candy. He earned a partial scholarship to the Memphis Academy of Art, but was forced to drop out because he could not afford it. In 2005 he made the decision to commit himself to creating art full-time. In the years since Dorsey has some 17 solo shows and participated in a number of group exhibitions.
Dorsey has been the recipient of awards that include a 2006 Patrons Purchase Award from the Polk Museum of Art. Dorsey's Work will be found in the collections of Charles H. Wright Museum (Visions of our 44th), Syracuse University, the African American Museum in Dallas, TX; the Marietta Museum of Art, FL; and Liberty Bank and Trust Company in New Orleans, LA. His work can also be found as cover art for literary journals, Books and Fine Art Catalogs.
Najee Dorsey is the Founder of Black Art in America (BAIA). BAIA is the leading global social network & resource for African American visual artists, collectors, industry leaders, and art enthusiasts.
A native Chicagoan, Stephen Flemister received his BFA in Interactive Arts and Media from Columbia College. His art making is a study in the parallels between present day technology and traditional studio art practices. Stephen has exhibited at Dittmar Gallery, the Silver Room, and the Hyde Park Art Center, to name a few. He was a resident in the Hyde Park Alliance for Arts & Cultures (HyPa) "Here and Now" Pop-Up storefront project and the "Simply Perfect" Pop-Up Art Studio, sponsored by the Chicago Artist Coalition and Patrón. Stephens work is included in numerous public and private collections. For more information, visit www.stephenflemister.com.
Centered Feature - Series Poet

Chanell Ruth, MFA, poet, educator, and performer, has served as Poetry Editor of Warpland Literary Journal. Her poems have been anthologized in texts, including Spaces Between Us and curated in The Citizen's Picnic: Lynching in America from 1865 to Present. Chanell has attended Hurston/Wright and Callaloo workshops. READ HER INTERVIEW